Welcoming Remarks
Jim Gallo
Center Director, Center for Church Management & Business Ethics
Welcome to the Spring 2017 edition of Villanova's Center for Church Management and Business Ethics Newsletter.
In this edition we cover two topics, and take a look at the incredible work of one of our own Master of Science in Church Management Students.
Michael Castrilli is an adjunct professor in our MS in Church Management program and a presenter in our Church Management Certificate program. Michael teaches pastoral planning and finance in our Villanova program. He has also been a frequent contributor to our newsletter. In this volume he outlines simple and impactful ways to communicate church financial information.
Joan Rosenhauer is the Executive Vice President of US Operations for Catholic Relief Services. In her article, Joan discusses how to build vibrant, mission-driven schools and parishes.
One of our own Master of Science in Church Management Students from the Archdiocese of New York, John Catalano, is a recent book author. In this new segment of our newsletter, we look at John in our "student spotlight," and discuss his decision to become a deacon, enter the MSCM program, and his new book.
Our regular look at data, "And The Survey Says", takes a look at characteristics that attract parishioners to parishes. Dr. Charles Zech takes a look at some of these characterstics both here, and in his new book, Catholic Parishes of the 21st Century.
Please also spend some time filling out the 2017 national survey on church compensation. This important survey is used to determine pastor and church staff salaries, so your input is truly valued.
I would like to remind you of the educational opportunities available through the Center for Church Management & Business Ethics. There is still time to apply for this year's class in our very successful on-line master's degree in church management (http://MSCM.Villanova.edu)
awarded through the nationally-ranked and fully accredited Villanova School of Business. You might be interested to know that US News & World Reports has ranked our MS in Church Management as the 10th best online program in the country among ALL graduate business programs.
We also, in partnership with Our Sunday Visitor and AmericanChurch, offer a series of webinars on church management topics. This series presents the opportunity for an individual to earn a certificate in church management through the Villanova School of Business. The series began its fifth year in September, but it is not too late to join us. Individuals interested in particular topics may participate in one or more of the specific webinars without pursuing the certificate. For more details, see http://www1.villanova.edu/villanova/business/centers/churchmanagement/programs/webinar.html
Additionally, please be sure to check out Mike Castrilli and Chuck Zech's new book on parish finances. It is currently available on Amazon by clicking here.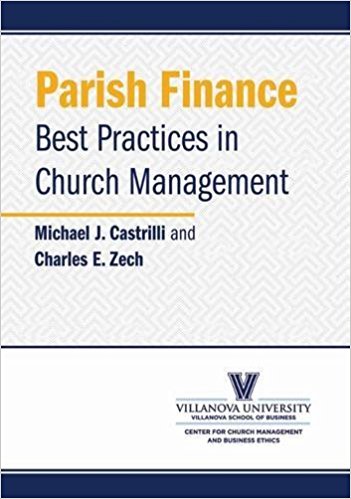 We hope that you find the information in this newsletter useful. We appreciate your previous feedback and are happy to hear your feedback about the topics covered in this issue as well as topics that you would like to see covered in future issues.